Big Flats River Company
Address:
35 Sunny Dell Circle
Horseheads, NY 14814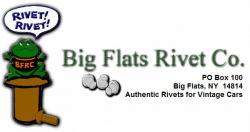 Big Flats Rivet Company specializes in authentic rivets for vintage cars and trucks.
They can supply the original type hot rivets that were used in Brockway frames. They also carry rivets that are very close to the original door hinge pins (both diameter and head shape and size.)
Ask for Jim.
Javascript is required to view this map.