Pic of the Week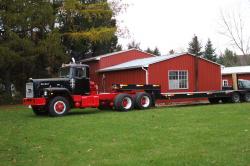 Here is a pic of Stan Augustine's 1972 N361TL. It has a 230 Cummins with a 5 x 4 and Eaton 44,000 rears. The lowboy is a 1973 Tonco with 25 ton capacity. This truck is a familiar sight at all the local truck shows and Stan is continually making upgrades, etc...
Here is a picture of a 1949 154WH-41581 that was previously owned by Kaminsky Brothers in Pittston. At some point in time we believe the cab might have been changed but were not 100% sure. As you can see, this truck has been in good company for many years, surrounded by other antique trucks in 'retirement.' Pictures courtesy of the J. Alt collection.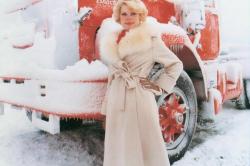 Based on the fact that some parts of upstate NY has over 10 feet of snow, and that here in Northeastern PA we are expecting our first big snow storm tomorrow, I figured this would be the perfect picture of the week!